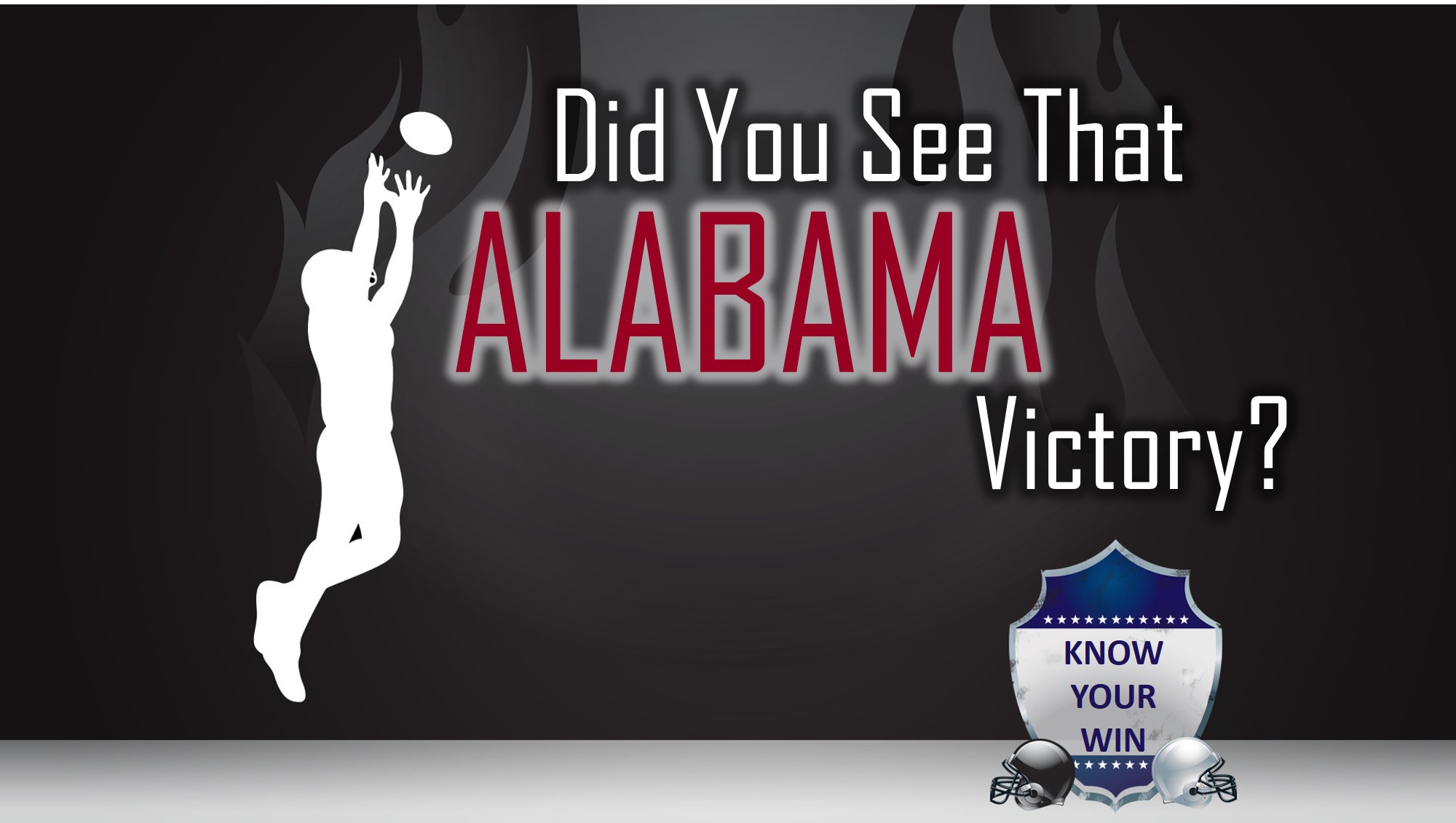 Did You See that Alabama Victory?
Wow!
What a game on Monday night, huh? Exciting.
What a victory for Alabama. I was so excited for them. It must feel so good to put such a victory under their belt.
Wait?! What's that you are saying? Alabama didn't win? But they had more points for 58 minutes of a 60 minute game. Surely that counts for something. They led the score for much longer than Clemson did. Surely that should matter more than what happened in the last few seconds of the game.
Don't Worry, I'm Not that Stupid
Despite what my good friend Terry Francis will tell you, I'm not that stupid when it comes to football. Even I know Alabama lost.
Certainly, when it comes to football, it pays to know what the win is. The win is not who has the most rushing yards. The win is not who has the most passing yards. The win is not who caused the most turnovers. The win is not who has the higher score for most of the game. The win is not having the higher score with 10 seconds left on the clock. The win is having the most points when game time is over. That, of course, is why they had to have that last kickoff and last play even though there was only one second left on the clock. Surely it would take a miracle for Alabama to score in one second. But the win is not who is in the lead with one second on the clock. The win goes to the team with more points when the clock runs out.
Sorry to all my Alabama friends. That went to Clemson this year.
Know Your Win
It would be really sad if I did try to celebrate a win for Alabama. However, I've noticed many today making an even sadder mistake. They hope to get to heaven because of how good they are. They say things like, "I don't need to be a Christian to be saved. I'm a better person than most of the Christians I know. Surely that ought to count for something." "Look at all these good works I have done. I don't lie, cheat, or steal. I'm nice to people. Surely that should matter in the end."
On the other hand I've talked to others who stayed away from Christianity saying, "I can't be a Christian; I'm not good enough. I'll never make it."
I do not want to give any justification to those who claim to be in Christ but still live like the devil. However, even though Jesus teaches morality, a changed life, and great behavior, that is not the win. The victory doesn't go to the best people. The victory goes to those who are in Jesus Christ and only to those in Jesus Christ.
And there is salvation in no one else, for there is no other name under heaven given among men by which we must be saved."

Acts 4:12
It is true that there are a lot of pretty good atheists, Muslims, Buddhists, agnostics, Mormons, and Wiccans. Further, it is also true that there are a lot of people claiming to be Christian who live abominably.
Yet this isn't the win. The win is not being more moral than your neighbor. That is the approach the Pharisee in Luke 18:9-14 took. But he didn't go away justified. The tax collector who was not nearly is "righteous" as the Pharisee went away justified because he connected to God God's way.
Are You In?
So, here is the win. Be in Jesus Christ. Let Him save you and let Him lead you. It doesn't matter how old you are. It doesn't matter if you are in the last second of your life. Get in Jesus. When you stand before God in judgment, the question will not be how many good things you did. The question will not be who is worse or better than you. The question will be are you in Christ.
How do you get in Christ?
For as many of you as were baptized into Christ have put on Christ."

Galatians 3:27
Repent and be baptized every one of you in the name of Jesus Christ for the forgiveness of your sins, and you will receive the gift of the Holy Spirit."

Acts 2:38
Are you in?
---
Photo adapted from Graceway Media