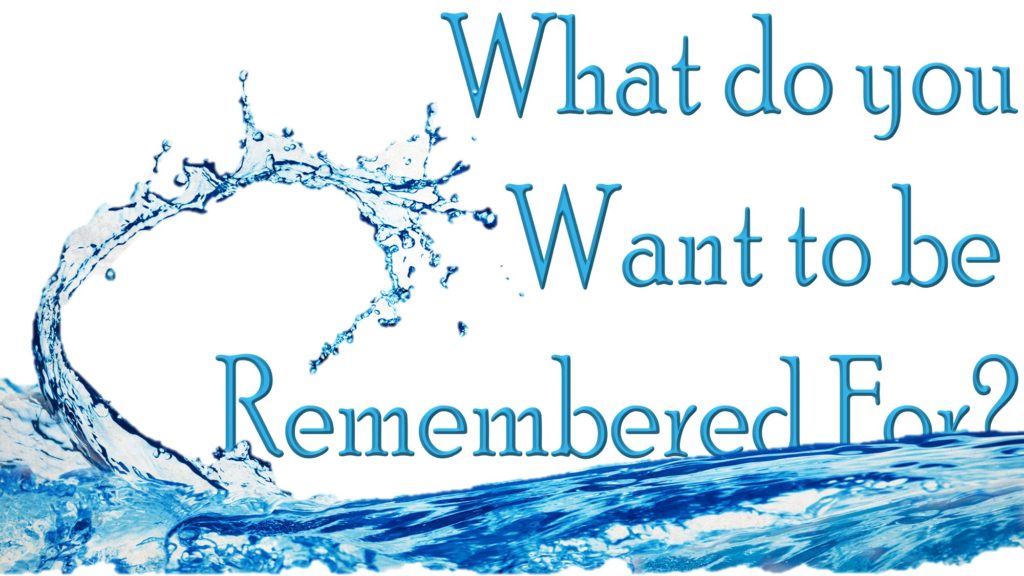 I'm leery of even writing about this. I worry there is no way to write about it without being misunderstood or misrepresented. Yet, if this doesn't get talked about, there is no way folks will understand. This is a warning to Christians of all ages and all places. It is a call to make sure we keep the main thing the main thing. It is not a warning against something that is a sin all by itself. Rather it is a warning that our enemy is taking what can be a good thing when kept in its proper place and trying to supplant the best thing. I hope I can remotely do this topic justice.
What Do You Want to be Remembered For?
Yesterday I saw a commercial.* It was emotionally moving. And I'm glad it was. I believe the call Matt Damon is making should be heeded by all who can.
Ending thirst.
What a noble goal.
Of course, I'm personally opposed to the alcohol industry, so I'd prefer to heed his call in some other way than buying a chalice from Stella Artois, a Belgian brewery. But I hope we can stay on point and not get distracted by discussions of ending drunkenness.
It was the final line that caught my attention: "What do you want to be remembered for?" It concerned me because I believe there is a generation of Christians and would-be Christians that hear that line and say, "Yes, that is what I want to be remembered for. I want to be remembered for ending thirst or hunger."
Jen Hatmaker would call this the mission of God's true church. Interestingly, she also calls it the cause of her generation.** And that gives me pause. At what point would we ever think the cause of a particular world generation would line up with the mission of God's true church? That sentence alone should cause every Christian to stop and question.
It would be neat to be remembered for ending thirst. It would be great to be remembered for bringing a drink of water to families in countries where clean water is hard to come by. Somebody should do that. Christians changed by the gospel will no doubt be involved in that.
However, remember what Jesus said about water in John 4:13-14:
Everyone who drinks of this water will be thirsty again, but whoever drinks of the water that I will give him will never be thirsty again. The water that I will give him will become in him a spring of water welling up to eternal life."
That is what I want to be remembered for. Bringing the water of life.
Remember what Jesus said about food and hunger in John 6:27:
Do not work for the food that perishes, but for the food that endures to eternal life, which the Son of Man will give to you."
That is what I want to be remembered for. Bringing the food that endures to eternal life.
Certainly, be moved by calls to help others have the water and food. After all, Christians are a people zealous for good deeds (cf. Titus 2:14). Christians are people who must "learn to devote themselves to good works, so as to help cases of urgent need" (Titus 3:14). Please don't take what I'm writing as a statement against supporting efforts to get clean drinking water or food to people who need it. It is not.
However, please remember that Jesus did not die on the cross and rise again on the third day to save people from thirst and hunger, to extend their earthly life. He died, was buried, and arose to save people from sin, to give people eternal life. Please, do not think you are engaged in the mission of God's true church just because you have taken up the cause of Hatmaker's generation. You haven't. And if you treat it like it is the mission of God's true church, the true mission will be left undone. Then this good cause really will have become a sin for you.
There was a time when Christians understood that if they brought food, water, clothes, and houses to people, but did not bring the gospel, they did them no good. Regrettably, many Christians have caved to the thinking of the world that if you bring them the gospel, but don't feed, clothe, water, or house them, you did them no good. It is great that Christianity has so impacted the world even atheists want to be zealous for good deeds like Christians. However, let us not be so impacted by the world we believe performing a good deed is the same as spreading the Good News.
Don't be fooled into believing a good cause is the great cause. Put God's cause first. If you end thirst in this generation, you will be remembered for it until people are thirsty again. And I promise you, they will be. But if you bring the water of life to people, you will be remembered for eternity.
Let's keep the main thing, the main thing.
---
Photo adapted from Graceway Media
*You can watch the commercial by clicking here.
**Jen Hatmaker, Interrupted: When Jesus Wrecks Your Comfortable Christianity, NavPress, 2014, p 18.